Rooms
ROOMS BUDGET AND SALESPERSON REVENUE GOALS
Enter your group rooms budget into STS Cloud to monitor your bookings against your annual expectations. Budgets are entered by market segment. If your hotel does not use segments for group business, you will need to create a Group Market Segment in your hotel settings.
There are two types of entries that can be recorded in this section. The first is the group budget from your financial statement, that tracks your overall performance for group sales. The second is the ability to enter a salesperson specific goal or budget to track by person.
To enter a rooms budget based on your financial statement revenue for the overall group budget, please note the following
Click on the Utility Wheel next to your name in the top right of the screen
Click on Settings for Your Hotel Name
Click on the Rooms Budget on the left
Click the blue Add New Rooms Budget/Goal on the right
Enter the year
Select a Market Segment to enter (or just group if you do not budget by segment)
Click to January, and enter your room nights and the ADR (STS will calculate your revenue)
Repeat for each month
Click Save at the bottom
Repeat the above for each Group Market Segment budget
THE ABOVE IS FOR YOUR OVERALL GROUP DEPARTMENT. TO ENTER GOALS PER PERSON, PLEASE SEE BELOW.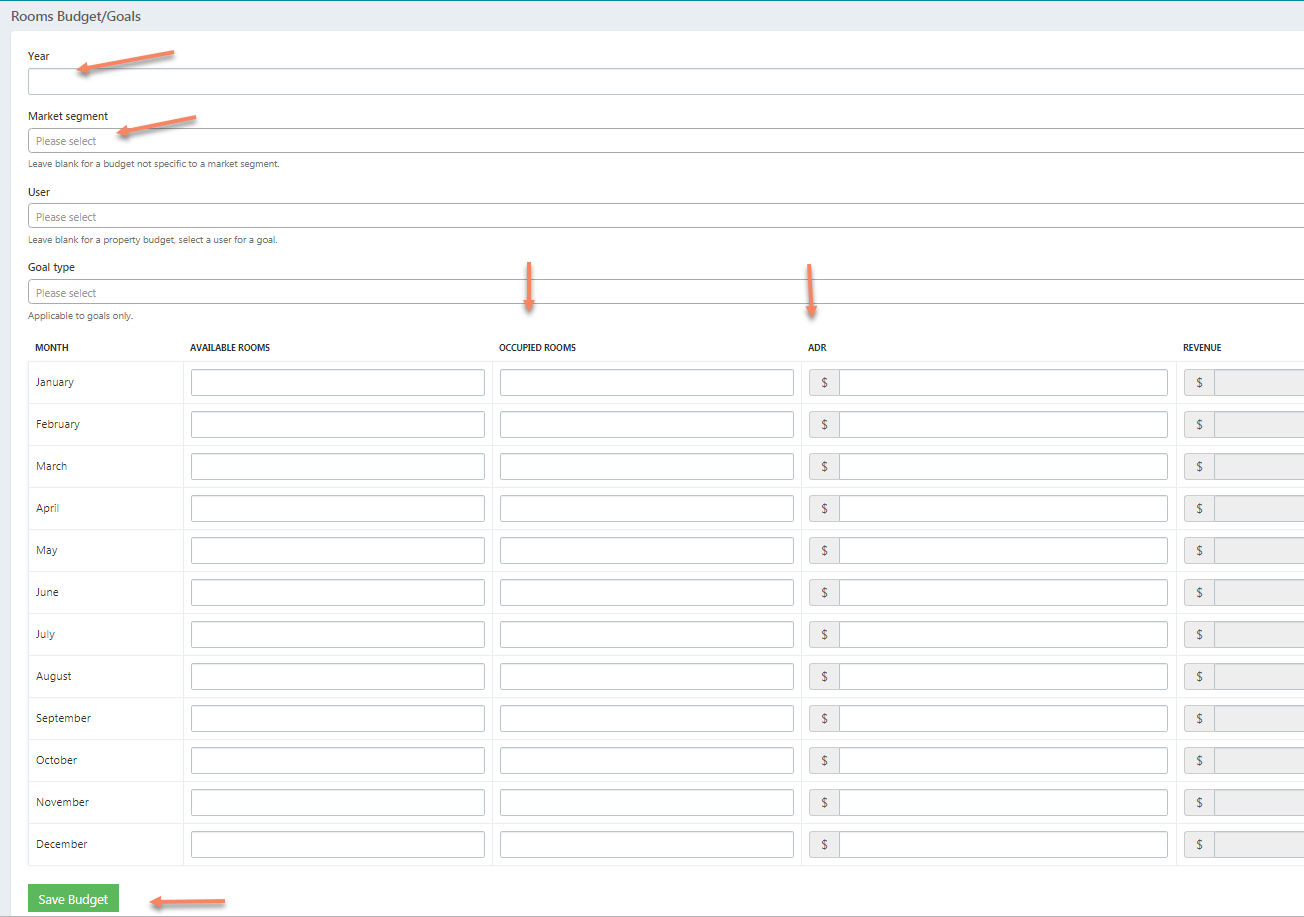 To enter a rooms production or consumption budget per salesperson, please note the following
Click on the Utility Wheel next to your name in the top right of the screen
Click on Settings for Your Hotel Name
Click on the Rooms Budget on the left
Click the blue Add New Rooms Budget/Goal on the right
Enter the year
Select a Market Segment to enter (or just group if you do not budget by segment)
Select the Salesperson
Select Production for a production based goal, or consumption for a goals based on the consumed room nights per month (actual stays)
Click to January, and enter your room nights and the ADR (STS will calculate your revenue)
Repeat for each month
Click Save at the bottom
Repeat the above for each Salesperson as appropriate
---
---