LOCAL NEGOTIATED RATE / BUSINESS TRANSIENT AGREEMENTS
Using Volume Contracts in STS Cloud to create agreements, and track preferred corporate/BT/LNR Accounts
STS Cloud offers you the ability to create LNR/BT Rate Agreement letters at the account level, in addition to group rooms and catering bookings. In STS Cloud, these are referred to as Volume Contracts.
Volume Contracts are added to your account, creating a transaction of the client commitment, and capturing the potential production, linking to the document template to merge, and also report on your weekly sales report you new LNR accounts in addition to your group room and catering sales activity.
Create a Volume Contract

Open the account you need to create the LNR/BT Agreement
Click Account Actions
Click New Volume Contract
Select the template you need to create
Input the data fields relative to the start and end dates, date of contract, segment, name of the agreement, and potential room nights/ADR
Click Save
NOTE: If you sell LNR Rates by a season, then your document template should be setup with the seasons, and related stock rates, or %. The ADR entry in noted in e. above would then be just an average rate if you sell by seasons.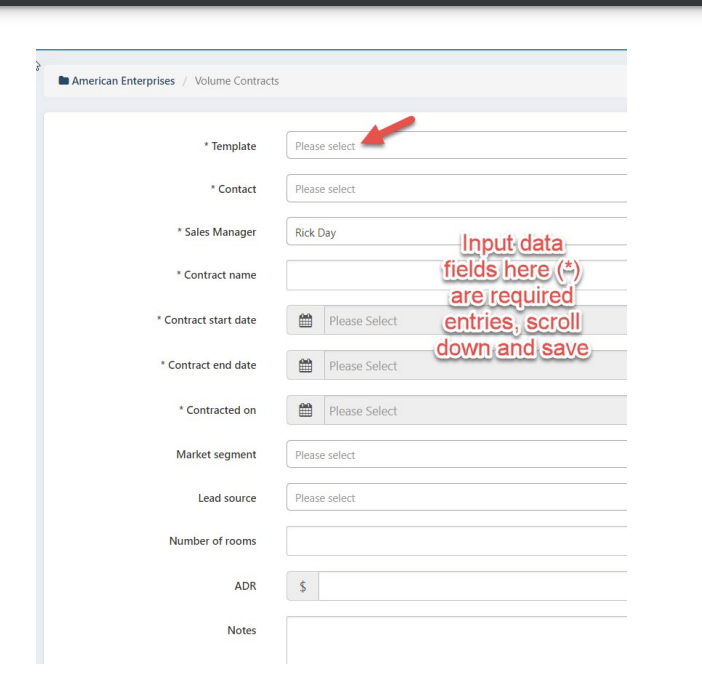 Create your Merged Letter

Once the Volume contract entry is complete, you are returned to the Account home page
On the right, scroll down and you will see a section labeled Volume Contracts
To access the Letter, and customize it to finalize the document for processing, click the View/Modify button
In View Modify, update the letter, make your changes, scroll down and click Save
When returned to the account home page, click Open PDF to view the finalize client output document with your changes
Without E-signature: Once Open PDF is clicked, use the down arrow to save a copy to send to your client
With E-signature: Click the Send for E-signature to process and include if needed your Credit Card Authorization form
NOTE: If you created the Volume Contract entry as noted above, and you open to a blank page with Open PDF or View Modify, then you did not select a template in the setup process. To correct this, click the Edit button under the Volume Contract on the Account screen, select the Template and click Save

Edit a Volume Contract Entry

If you have entered the Volume Contract, but perhaps did not enter all fields of data, you can easily edit as follows:

Click the Edit button under the Volume Contract
Select a template or fill in missing information
Scroll down and click save

Reporting new Volume Contracts issued on the Weekly Sales Activity Report

To add any new Volume Contracts to your Sales Activity for your selected date range

Click Reports
Click Sales Activity
Enter the date range for sales dates
Check the New Volume Contract button to add to your report with group, catering and activities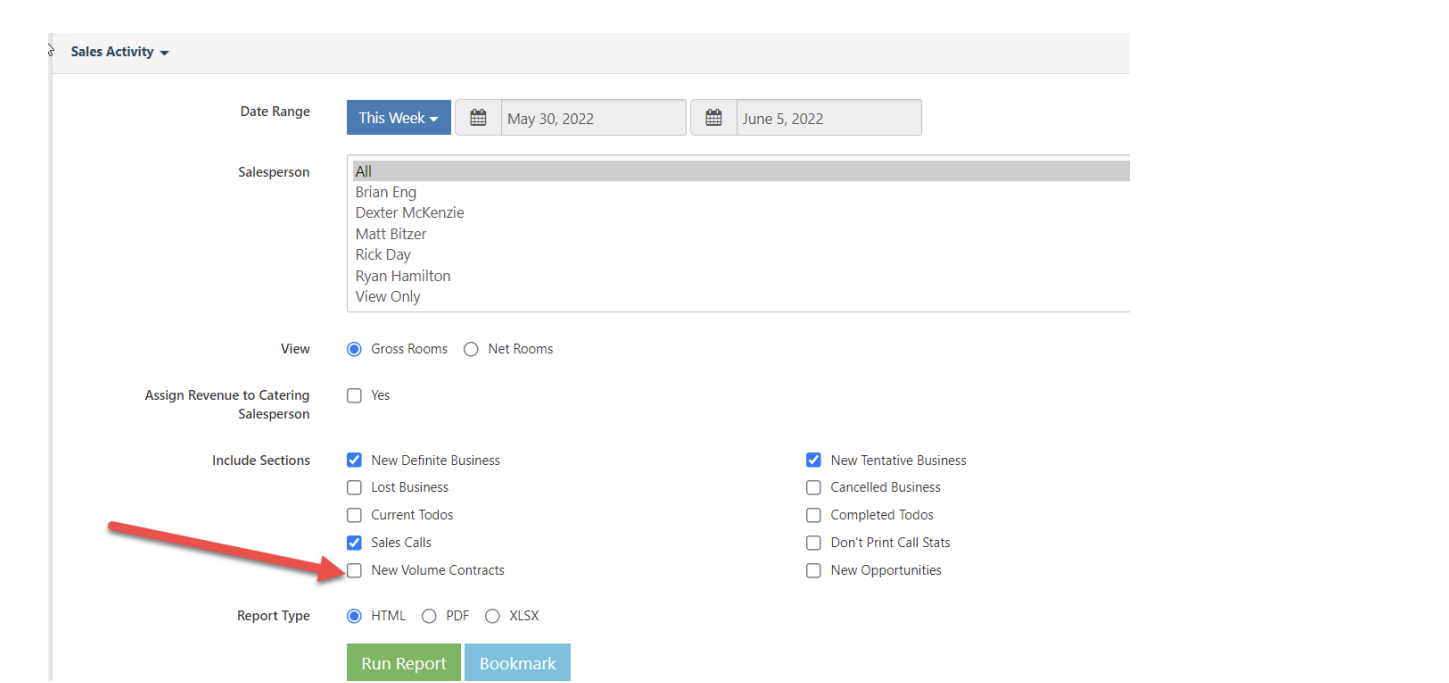 Tracking Actual Produced Room Nights for Volume Contract Accounts

You can add tracking into STS Cloud to track you room nights and rate produced from Volume Contract Accounts. This step requires an entry, and can be done as a daily entry, weekly or monthly entry depending on your specific needs (most popular entry is a Month to date entry for the monthly room nights and rate of actuals in a full month)
In the top menu bar, click the Tools icon
Click Daily Tracking/Pickup
When the window opens, you will see a tab for Active Volume Contracts
It will list your accounts alphabetically
To enter actual room nights and rate for an account, click the date button on the right
Select a date (if only putting in a full month, we suggest selecting the last day of the month
Enter the room nights and ADR for the accounts
Scroll down and click save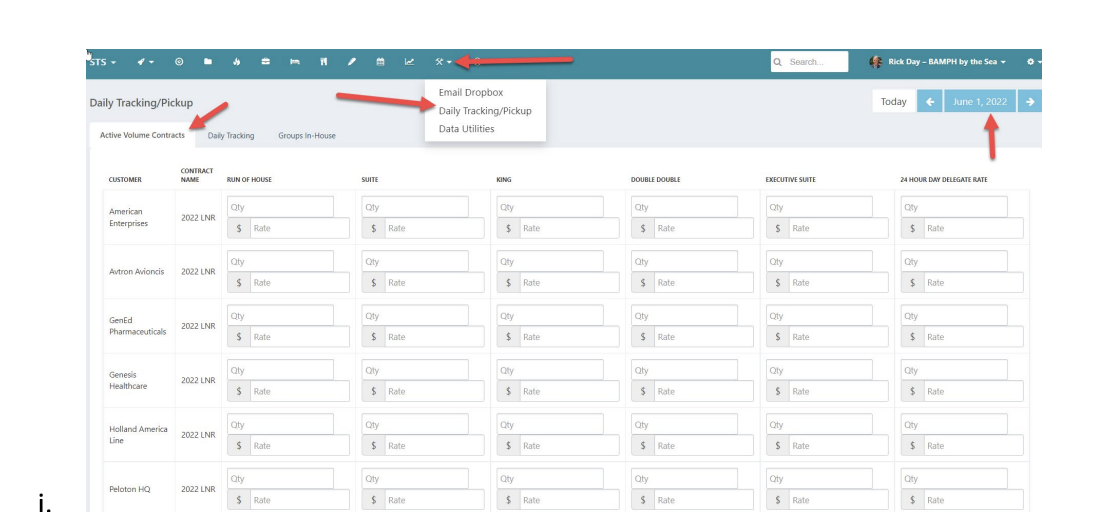 Volume Contract Report for Actual Pickup

Click Reports
Click Room by Account
Select the date range, etc to run a report of the actuals to review Volume Contract activity based on your entries (this is not for group room pickups)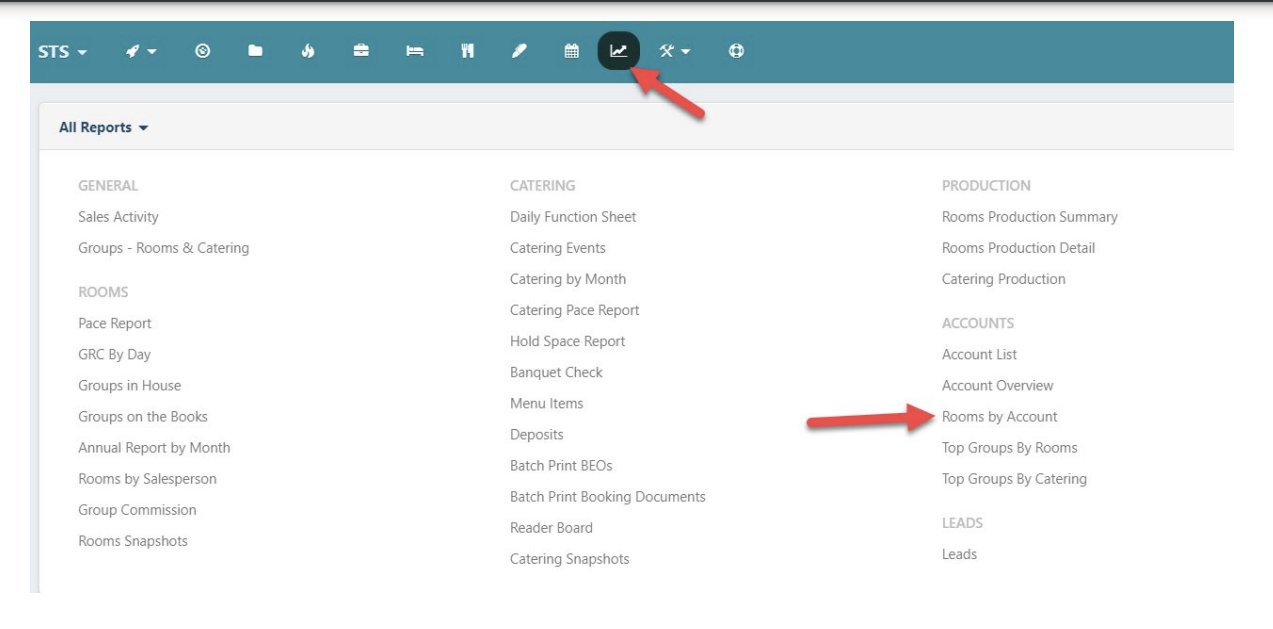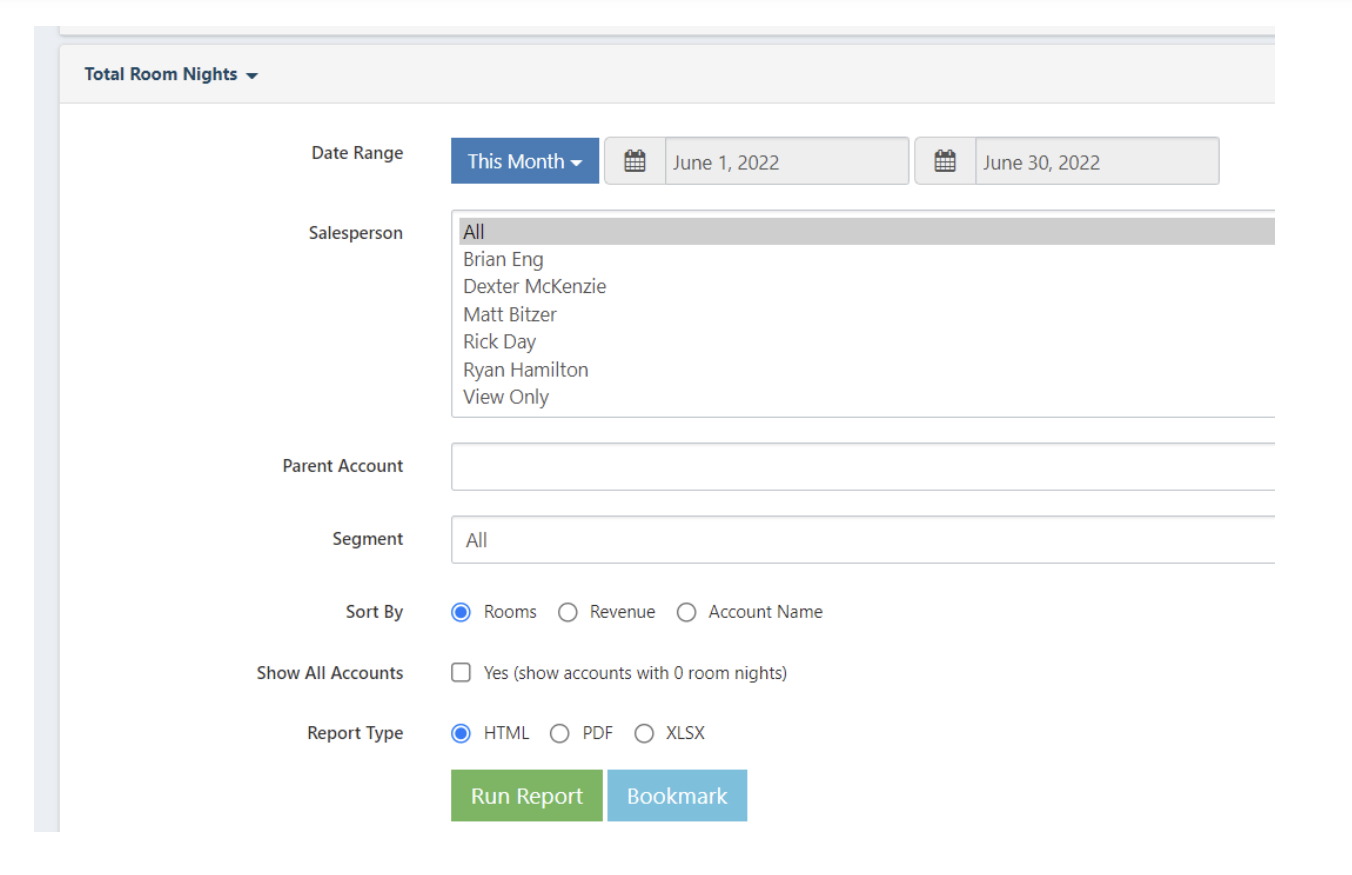 ---
---